Today, we have put together free photohop UI kits in once place.
Are you tired of spending hours in making mockups of web pages where you can use web UI elements again and again? If you are a designer with more and more projects of web design and other graphic design work, you definitely would have tired.
Undoubtedly, every web designer has spent many endless hours mocking up web pages. So, in my opinion, every web designer must have set of Photoshop UI kits to save his precious time and spare headaches.Free Photohop UI kits are very very useful for web designers. It is a good practice to have a UI kit at hand so that its application into the project could be made possible by customizing it.
I am here to help you in reducing your effort of creating UI elements. I have compiled this list of psds and vectors of UI elements that would help you in making your web design process faster.
You would find here any Photoshop UI kit that matches your taste and for free.
Free Flat PSD UI Kit
MORE / INFO
Chiclet UI Kit
MORE / INFO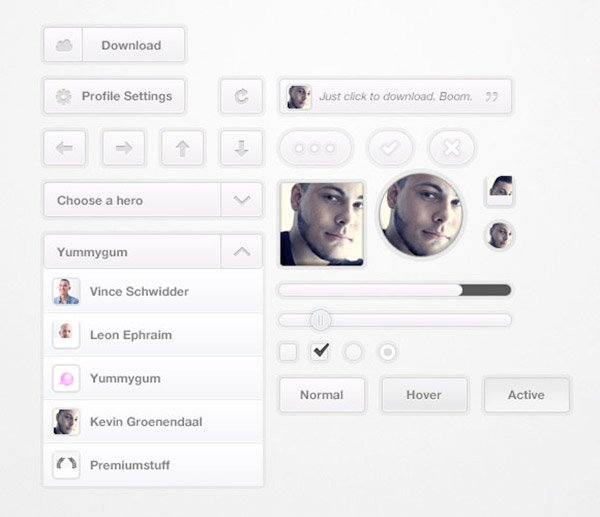 Conclusion:
Free Photoshop UI kits are meant to save your time.Your productivity would enhance by using free photohop UI kits. These UI kits would enable you to focus on aesthetics. If you use free photohop UI kit, your worries about the mechanics of creating each element in a precise manner would go. So stop wasting too much time on creating UI elements. You have a huge resource of free Photoshop UI kits in your pocket now.
If you have liked this collection of free Photoshop UI kits, don't forget to share it with your fellow designers. We need your help in spreading the word about this great resource of free Photoshop UI kits.